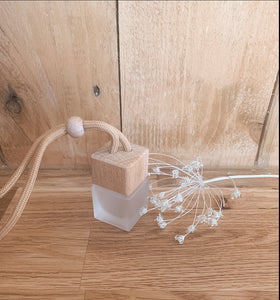 Hanging Car Diffuser (approx 4.5cm x 2.5cm)
A stylish way to freshen your car or small space.
Unscrew wooden top and remove cap, replace wooden top. Tip bottle up, the outside container is wooden so will soak up some of the fragrance to diffuse into the car. If fragrance starts to become weak simply tip the diffuser to allow the wood to soak up more oil.
All our products are CLP labelled and come supplied in a compostable starch bag.
This is item will last varying lengths depending on the conditions it's used in. If in direct sunlight it will evaporate quicker than in non sunlight cool conditions. 
Please choose your fragrance from the drop down list
The diffuser base is non flammable, vegan, cruelty free and is a leaping bunny certified product and recognised by the vegan society to contain no traces of any animal products. Also it is made from renewable sources, contains no petro-chemicals and is VOC compliant.
All the scents are vegan, paraben and PFC free.
Please do not let any of the liquid come in to contact with any plastics in your car. Always invert away from any fabric or plastic surfaces. Also always wash your hands of they come into contact with the liquid.