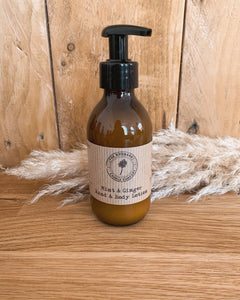 Mint & Ginger Hand & Body Lotion
Cool and fresh, an aromatic scent that begins its journey with the wild aroma of crisp spearmint, and freshly picked fruits of blackcurrant and apple. A invigorating heart awaits where the intensity of jasmine is enriched by sweet clove and fresh ginger, before settling on smooth tones of caramelised tobacco, and vanilla amber.
Vegan Friendly, Cruelty Free and Paraben Free.
200g Amber Glass Bottle