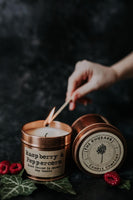 Our Products
Here at The Rhubarb Candle Company, we believe that luxury scented candles and melts should not cost the earth.
We are a family run business working from the Dorset countryside, hand pouring scented eco soy candles, melts, perfumes, diffusers and other products. We believe in sustainability and our candles and wax melts contain no beeswax, paraffin, palm oil or petroleum derivatives.  Our soy wax is sourced from ethical, sustainable farms and is free from unnatural additives.
Every product that we make is vegan and cruelty free. We make sure that all our products are paraben free and we use natural, cotton wicks with no harmful metal cores.
We have an eco friendly ethos. All our products are zero to landfill. This means they are either recyclable or compostable even down to using biodegradable packing tape and wax melt bags made from starch and NOT plastic.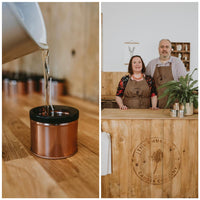 Our Company
We started the business in 2016. We used to buy high street candles which were made using paraffin wax. Our son has asthma and they regularly triggered this. We set about making candles that we could use in our home, this led to the birth of The Rhubarb Candle Company. We use the best products available to buy. We pride ourselves on quality and have a strong commitment to sustainability and the welfare of our future generations.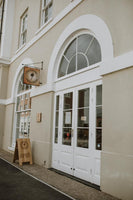 Our Shop
Why not come and visit us in our studio/shop? You will be able to watch us hand pouring our home fragrances as well as browse all our scents and products.
We are located at 3 Canford Street, Poundbury, Dorchester, DT1 3EG.
We have a large range of candles, diffusers, room sprays, wax melts, perfumes, bath and body products and refills.
Opening times are:
Monday - Closed
Tuesday - Closed
Wednesday - 10am - 2pm
Thursday - 10am - 4pm
Friday - 10am - 4pm
Saturday - 10am - 4pm
Sunday - Closed

If you do need to contact us please phone 07398447381