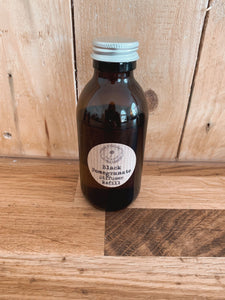 120g Reed Diffuser Refill
This item does not come with reeds - liquid refill only. 


This is a eco friendly, plastic-free item. The refill will come in a amber glass bottle with aluminium lid. 
This is a long lasting item that will provide fragrance for months.
Please choose your fragrance from the drop down list.
The Reed diffuser base is non flammable, vegan, cruelty free and is a leaping bunny certified product and recognised by the vegan society to contain no traces of any animal products. It is made from renewable sources, contains no petro-chemicals and is VOC compliant.
All the scents are vegan, cruelty free, paraben and PFC free.
Please note the bottle you will receive will contain 120g but the bottle we use are bigger so it will look like a smaller volume.
Always take care when transferring this liquid to its new container. Remember to wash your hands after or if they come in to contact with the liquid.