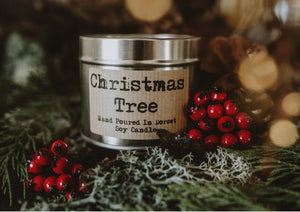 This scent does exactly as it says on the tin. It smells just like having a real Christmas tree in your house. A rich, herbal fragrance dominated by Siberian Pine alongside Eucalyptus & Precious Woods.
Vegan
Hand Poured 
Made from responsible farmed soy wax
Cotton Wick
Fully CLP Compliant
This candle is approximately 200g and has a minimum burn time of 36 hours. The tin size is 74mm wide and 67mm high.