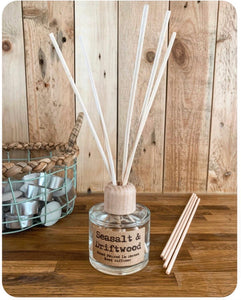 120g Reed Diffuser 
Including 5 x Fibre Reeds
This is a long lasting item that will provide fragrance for months.
Please choose your fragrance from the drop down list
The Reed diffuser base is non flammable, vegan, cruelty free and is a leaping bunny certified product and recognised by the vegan society to contain no traces of any animal products. Also it is made from renewable sources, contains no petro-chemicals and is VOC compliant.
All the scents are vegan, cruelty free, paraben free and PFC free.
To get the most out of your reed diffuser fragrance, we would recommend placing it in a hallway or an entrance to a room. The air circulation created by daily traffic will help disperse the aroma so you will pick up the scent every time you enter and leave the room or walk through the hallway. Make sure it is out of reach of children though, and do not place it near windows or radiators as the heat will evaporate your fragrance oil quickly.
Always make sure that you keep your reed diffuser on a coaster or mat so there is no risk of oil damaging any furniture or fabrics. Also, wash your hands immediately if they come into contact with the oil.